Hispanic Heritage Month
Hispanic Heritage Month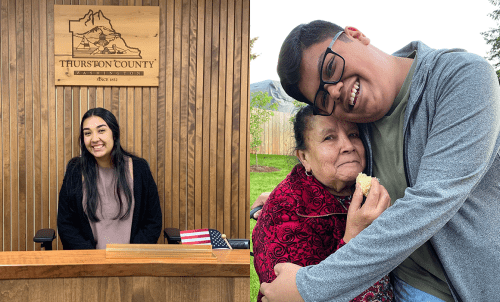 Now that I'm older, I can see the significance of my culture and how important it is for my past relatives and myself to continue to share and capture every moment of my life when I am able to show and represent my culture.
Kain Tinajero Hernandez

Class of 2024
Saints, meet senior, Daisy Miranda, and junior, Kain Hernandez, as they share what Hispanic Heritage month means to them. Learn more about the significance behind celebrating our Hispanic community and what it means to Daisy and Kain.
What is the significance of celebrating Hispanic Heritage Month?
Daisy: Hi, my name is Daisy Belen Miranda and I'm a senior at Saint Martin's majoring in Social Work with a minor in Race and Ethnic Studies. I was born in Guadalajara, Mexico, but I grew up in Hawai'i. While Hawai'i will always be home to me, my Mexican heritage has inspired me to keep moving forward. I celebrate my heritage as a tribute to those who came before me and will come after me, and to the fellow children of immigrants who have figured out higher education one day at a time, despite the barriers set in place by systems we are still learning to navigate. I look at this celebration as an opportunity to thank my mom, Margarita, who has made countless sacrifices so I can pursue higher education. It is because of her selflessness, empathy, and dedication to her children that I am able to proudly say I am a first-generation student.
Kain: I would describe Hispanic Heritage Month as a way to represent and respect those who gave it their all for us. Especially my grandmother. She is a hard-working woman that was able to provide for her family. While she tried her best, things were never always flowers and butterflies; there were times when it was difficult to move forward. While this can happen to anyone, she kept her head up and pushed through every obstacle she faced. Now that I'm older, I can see the significance of my culture and how important it is for my past relatives and myself to continue to share and capture every moment of my life when I am able to show and represent my culture. If I could describe Hispanic Heritage Month in one word, it would be "family" because, without them, I wouldn't be here and have the opportunity I have now. My family is very close to each other, and we love and cherish every moment we can together, from sharing our traditions of Semana Santa in April and Las Posadas during Christmas. Those are just a few that keep our traditions alive. That's what Hispanic Heritage Month means to me