Faculty
Hearing what isn't said
Hearing what isn't said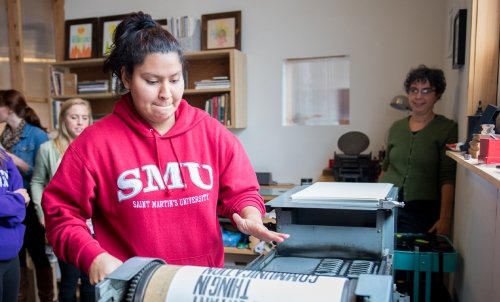 "The goal of communication studies at Saint Martin's is to encourage students to become responsible leaders, engaged citizens [who seek] ... social justice on a scale beyond themselves."
Irina Gendelman

College of Arts and Sciences
Professor of Communications
I asked my Introduction to Communication students to come up with a quote, any quote, about anything important to them. We would then print this quote at a local letterpress studio as a way to examine the visual and tactile form of print communication.
This was the middle of our first semester of the brand new Communication Studies program that was launched this past fall at Saint Martin's University. The students deliberated among themselves and picked the words written by Peter Drucker, a social scientist and author: "The most important thing in communication is hearing what isn't said."
As you might expect, they used a search engine to find a bank of communication-related quotes. We haven't studied Peter Drucker in class. However, the fact that this quote resonated with the students is telling. They are a clever bunch and they are curious about the world around them, especially the mediated world in which they are so thoroughly immersed.
They understand that even though we are surrounded by a continuous and evolving cacophony of noise, there is still something important in that which is silent.
In our first few months together, we have examined the many areas of communication, from interpersonal to political to social to organizational to mediated. We have looked at the ways that language is used to frame ideas; the ways that we use objects, such as clothing, to communicate our identities; and the ways that mass media representations perpetuate certain ideologies and silence others.
We have explored how communication is complex and not always what it seems at the surface and that reality is something more complicated than the shadows on the walls of Plato's cave. Images, words, gestures and design elements speak to us as symbols beyond their literal meaning and students recognize that it is their job to explore this process of meaning making.
About 100 years ago, in the United States, scholars began to fuse two branches – speech communication and journalism. In those early days, led by sociologists at the University of Chicago, communication scholarship was fueled by the powerful and real-world examples of the ways that totalitarian regimes could use emerging media technologies to manipulate public opinion and to commit heinous crimes in the name of their citizens.
Jewish émigrés, such as Hannah Arendt, Paul Lazarsfeld and Kurt Lewin , who escaped the rise of Nazism in Germany during the 1930s, did much of the early intellectual heavy lifting in the field, studying power, propaganda, public opinion and how groups could work with each other for the public good.
Today, the imperative for communication scholarship remains strong. In the last decade, we have seen a lightning-speed convergence of technologies to a point where talking, dating, shopping, reading, making movies, reporting news, listening to the radio, navigating, playing games, advocating for a cause and much more can be done with one hand-held device. We live in a world of ubiquitous screens, endless selfies, viral cat videos, onthe-spot news, constant contact, instant access to information and consolidated corporate ownership of media and data. These communication technologies, undeniably, impact the ways that we experience our merging personal and public lives.
The goal of communication studies at Saint Martin's is to encourage students to become responsible leaders, engaged citizens and inspired storytellers who, as scholars, seek awareness on a personal scale and social justice on a scale beyond themselves.
Before we had the Communication Studies program, I witnessed a hunger among the students. When we talked about communication-related themes such as the ones described above, I could see a shift in the classroom. Bodies would sit forward, eyes focused, discussion enlivened.
The same thing happened with media production. Students were eager to get their hands on media tools and to create stories of their own. When the provost encouraged me to put together a proposal for the communication program, I was thrilled. I saw it as a great opportunity to connect many excellent classes that already exist on campus and to create a comprehensive program that uses our existing strengths and combines them with new opportunities.
There were already courses such as Language and Culture of War taught by humanities and sociology faculty at Saint Martin's. With the start of the new program, English professor Julia Chavez, Ph.D., created a cross listed course, "Media History: Evolution of the Book." She begins her class by looking back at the origins of handmade books and connects that history with the more digital experiences of students today.
There is a lot of potential for other cross-disciplinary classes, such as media economics to be taught with business or visual communication and game design to be paired with computer science. In 2015, alongside classes such as communication and identity, interpersonal communication, media studies, film studies and journalism classes, we are offering filmmaking, podcasting and storytelling, and communication law. We are also working with the debate team to provide students with an opportunity to sharpen their speaking and argumentation skills.
The future of Communication Studies will, in part, be determined by the feedback from students today, who are our program pioneers, and the many excellent faculty at the University. We are also excited about the possibilities of partnering with our local community -- the many arts and non-profit organizations, as well as the state legislature and the high-tech industry in the area, all have expressed interest in working with our communication students.
Stay tuned for student radio and many other exciting developments in the near future!
Irina Gendelman received a Ph.D. in Communication from the University of Washington. She is currently an associate professor and director of the new Communication Studies program at Saint Martin's
Undergraduate
Ready to turn your passion for digital media, journalism and film into a career in which you can impact the world and make a difference in your communities? Communication studies may be the best major for you.
Campus

Type of Instruction

Degree