Linjun Wu, Ph.D.
Linjun Wu, Ph.D.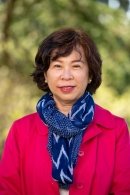 Adjunct Faculty, History and Political Science
Old Main 416
5000 Abbey Way SE
Lacey, WA 98516
Professor Linjun (Lori) Wu received her Ph.D. in Government and International Studies from the University of South Carolina (Columbia, SC), M.A. in International Studies from the University of Oregon (Eugene, OR), and B.A. in Diplomacy Studies from National Chengchi University (Taipei, Taiwan). She has been teaching and researching for more than 26 years before joining Saint Martin's University in Fall 2020.  
Dr. Wu has taught many world politics-related classes, such as Global Issues, World Politics, International Political Economy, Regional Economic Integration, and International Relations of East Asia.  Her research focuses on the political implications of economic cooperation in East Asia and Southeast Asia. Dr. Wu's research publications also include Foreign Policies of China, Taiwan, East Asia, the United States, and the Political Economic Integration of the Asia Pacific region.