Jeff Rounce, MBA
Jeff Rounce, MBA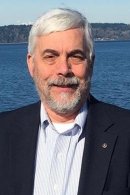 Founder, The Business Examiner
Lecturer, Business
Old Main 416
5000 Abbey Way SE
Lacey, WA 98503 
Office Hours
Tuesdays, Thursdays
10:15-10:45 a.m.
Other times by appointment
Background
Jeff Rounce is the founder, publisher and former CEO/President of The Business Examiner Media. He created a small publishing business in 1985 to meet information appetites of business owner-manager-operators in greater Tacoma, and subsequently, expanded to include Olympia-Lacey capital region and south King County. For the first 30 years, the company and its four to 16 employees published a bi-weekly tabloid B2B newspaper supported by advertising sales. He also created and conducted numerous recognition events for the marketplace that provided fact-based honors to leaders in the local business, non-profit and government community. In 2017, in response to the changing marketplace, Jeff converted the newspaper to a monthly glossy magazine, South Sound BIZ. The publication and events assets were sold to another local media company in January 2018. Before creating his own company, Jeff worked in the broadcasting world for over 10 years as reporter, editor, anchor, writer, and producer for a variety of local stations around the Pacific Northwest. 
In 1970, Jeff Rounce graduated as honor graduate from Defense Information School at Fort Benjamin Harrison as well as from Washington State University with a bachelor's degree in communication with distinction in radio-TV. In 1985, Jeff earned his M.B.A. from Pacific Lutheran University.
Jeff is a fourth-generation entrepreneur who believes strongly in the importance of local community, and has embraced the virtues and opportunities of the South Sound region since arriving here almost four decades ago. As his vocational career transformed and his company expanded to serve business consumers in the marketplace, it has been Jeff's good fortune to meet, engage with and serve a broad spectrum of persons and interests. Business Examiner Media has also been well served by dozens of employees over the years, from high school interns who grew into business careers of their own to several former staff members now leading their own entrepreneurial lives of their own, and no less than four former BE employees who are today classroom teachers and educational leaders.