Ian Werrett, Ph.D.
Ian Werrett, Ph.D.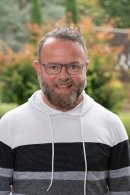 Faculty President
Professor, Theology and Religious Studies
Old Main 365
5000 Abbey Way SE
Lacey, WA 98503
Area of Expertise
Hebrew Bible, Dead Sea Scrolls, ancient Judaism, early Christianity, New Testament, ancient Libraries, Ritual Purity/Impurity, Modern Theories of Religion, Comparative Religion, Religious Art
Education
Ph.D. in biblical studies and second temple Judaism, University of St. Andrews, Scotland (2006); M.A. in biblical studies, Trinity Western University, British Columbia, Canada (2000); B.A. in English and religious studies, Saint Martin's College (1996) 
Ian Werrett has been a Professor of Theology and Religious Studies at Saint Martin's University since 2006. He teaches introductory and advanced courses in religious studies and biblical studies.  An expert on the Hebrew Scriptures, Dead Sea Scrolls, Ancient Judaism, and early Christianity, Werrett has given lectures and presented conference papers in North America, Europe, and Israel. He was the featured speaker for the university's prestigious Last Lecture series in 2011 and was honored as the Monks of Saint Martin's Abbey Outstanding Faculty of the Year in 2011/12.  Werrett has served as President of Saint Martin's faculty (2013/14) and is a regular speaker at UW Tacoma, the Olympia Senior Center, Panorama, Jubilee, and other communities in the South Sound. He has worked in situ with the Dead Sea Scrolls at the Israel Museum in Jerusalem, Israel, and has published numerous articles and book reviews. Werrett is the author of a book entitled Ritual Purity and the Dead Sea Scrolls, which was published by Brill Academic Publishers in 2007, and is the co-author of an introductory textbook on Religious Studies with Dr. Reza Aslan, entitled Reinventing Religion, which will be published by UC Press in 2024.