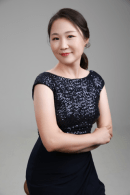 Adjunct lecturer
Kreielsheimer Hall 114
5000 Abbey Way SE
Lacey, WA 98503
Born in South Korea, pianist Hannah Cho is a versatile performer who enjoys playing a wide variety of repertoire. She appears as a soloist as well as a collaborative artist. 
As a dedicated teacher, Ms. Cho is devoted to piano pedagogy. She has an active career as an adjudicator  and clinician. She is frequently invited as a judge for regional and international piano competitions. 
Ms. Cho performed as a soloist and collaborative artist worldwide. She played in South Korea, Japan, Bulgaria, and the U.S. In addition to many other prestigious concert venues, Ms. Cho has performed at the Carnegie Weill Recital Hall in New York City. 
Her performing career as a concert pianist also includes performances with orchestras, such as Dong-A University Orchestra, Vidin Symphony, Pancho Vladigerov Academy Orchestra, and Olympia Chamber Orchestra. Her most recent performance with an orchestra was in Bulgaria where Ms. Cho played W. Stenhammar's Piano Concerto No.2 with the Vratza Symphony Orchestra under the baton of conductor Nickolas Carlson. 
She participated in numerous competitions and won several national and international competitions, including the Korea Music Association Piano Competition, American Protégé International Competition (2015), and the American Prize Competition for solo (2013) and concerto divisions (2020). 
As a recipient of full scholarships, she completed her bachelor's degree in piano performance at Dong-A University in Korea. Later, she went to Sofia, Bulgaria for further study, where she earned a Master's degree and konzertexamen from Pancho Vladigerov-National Music Academy. She studied under the tutelage of Prof. Anton Dikov, Elena Dikova and Daniela Dikova. 
Currently, Hannah Cho serves as an adjunct member of Music Department at Saint Martin's University in Lacey, WA.  She also maintains a large private studio. As a performer, Ms. Cho stands out in chamber music and connects with audience members. The ensemble 'Forza La Femme,' a performing organization for classical music of which she is a founding member, actively performs since its establishment. Most recently, she formed Duo Amabile, a piano duo, which completed its first tour in South Korea with huge success.