Carrin A. Perez, LICSW-A,
Carrin A. Perez, LICSW-A,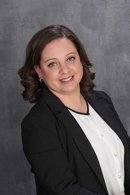 Faculty Field Liaison, Saint's Opioid Workforce Expansion Program
Old Main 341
5000 Abbey Way SE
Lacey, WA 98516
Biography
Carrin is the Faculty Field Liaison for the Saint's Opioid Workforce Expansion Program (SOWEP).  Her responsibility will be to provide outreach for SOWEP, maintain field placements for BSW students and assist in the creation of the mobile clinic. 
Carrin received her Bachelor's Degree in Social Work in 2015 from Saint Martin's University.  She was a non-traditional student and the first to graduate college in her family. The rigorous BSW program cultivated and prepared her for graduate school by focusing on service, compassion and discipline. She received her Master's Degree in Social Work (advanced standing) in 2016 from University of Southern California concentrating on mental illness and military social work. She describes attending graduate school as "the dream she never knew she had."
She believes Social Workers are important because we pride ourselves on understanding and supporting humans in all capacities of everyday life.
Carrin has experience providing short-term and long-term therapy utilizing Motivational Interviewing, Cognitive Behavioral Therapy and Mindfulness to individuals, adolescent, couples, and families.  She finds value and passion in education and decided to change her professional direction to academia. She strives to provide a warm and safe place for students to connect with their authentic self to identify their academic and professional goals.
Carrin is a United States Air Force veteran, a caregiver to a Wounded Warrior, a wedding/ event planner, a world traveler and self-proclaimed foodie.  If you want to know where to visit or go to eat in the area, she's the one to ask.