Teresa Winstead, Ph.D.
Teresa Winstead, Ph.D.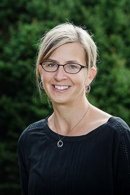 Associate Professor, society and social justice
Old Main 321
5000 Abbey Way SE
Lacey, WA 98503
Areas of Expertise
Cultural anthropology
Sociocultural practice of policy formation and implementation (with focus on the relationship between legal interpretation
Power and cultural practice)
Critical social theories in education
Ethnographic research methods
Education
B.A., Augustana College; M.A., Indiana University, Bloomington, Cultural Anthropology; Dual Ph.D., Indiana University, Bloomington, Cultural Anthropology and Education Policy
Areas of specialization: Teresa Winstead is an anthropologist and policy analyst whose research has focused primarily on how policy impacts educational practice, from teacher perspectives to student experiences. Winstead earned a double major doctorate in Education Policy and Cultural Anthropology from Indiana University in 2014. Winstead's research has dealt primarily with the context of indigenous education policy in Washington State, and considers how policy actors at various levels of the policy process, interpret and implement existing policy intended to foster increased engagement and student success among native youth in Washington's schools. 

In addition to her dissertation work on the Tribal History and Culture bill [RCW 28A.320.170] which was a collaborative project with the Office of the Superintendent of Public Instruction, Winstead recently completed a case study, co-authored with John Hopkins and Michael Vendiola (2018), on the Tribal Compact legislation [RCW 28A.715] for the Enduring Legacies Native Case Studies Institute. The project involved completing interviews with policy makers across multiple state agencies, as well as educators and administrators across three Tribal Compact Schools. Winstead also recently co-authored the theoretical introduction to a new edited volume titled "Anthropology of Education Policy, (2017)" edited by Teresa McCarty and Angelina Castagno. A follow-up publication also appears in the International Handbook for Anthropology of Education Policy, edited by Thomas Popkewitz (2019). Winstead has completed additional training in research methods through the National Science Foundation and serves as lead data collaborator for a harm reduction based syringe exchange project in San Luis Obispo County, CA, a collaborative effort with the CalPoly Department of Natural Sciences, and the SLOBangers Syringe Exchange, which aims to serve the health and wellness needs of people who inject drugs. 
 
Currently, Winstead is on sabbatical (fall 2020-spring 2021) and learning more about applied public health research and undertaking a project related to Medication Assisted Treatment for Opioid Use Disorder. 
 
Winstead teaches courses in cultural anthropology, research methods, and qualitative methods, among other special topics courses.
Select publications: She has published articles on the impact of power and practice on ethnographic research methods, as well as about the interaction between federal educational policies and tribal sovereignty, with special attention to how federal control impacts language and cultural curriculum for tribally controlled schools.