Roy Heynderickx, Ph.D.
Roy Heynderickx, Ph.D.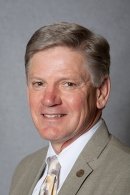 Interim Co-President
Office of the President
Old Main 269
5000 Abbey Way SE
Lacey, WA 98503
Education
Ph.D., University of Oregon
M.B.A., University of Portland
B.A., Accounting, University of Oregon
Background
Roy F. Heynderickx, Ph.D., will serve as Interim Co-President of Saint Martin's University until the new president is selected from a national search.  He previously served when he became the tenth president of Saint Martin's University on January 1, 2009.
A native of the Northwest, Heynderickx earned his bachelor's degree in accounting from the University of Oregon in 1975, an M.B.A. from the University of Portland in 1983, and his Ph.D. in education administration from the University of Oregon in 1992.
Heynderickx is very familiar with Saint Martin's Benedictine tradition having grown up in Mount Angel, Oregon where he attended high school at the Mount Angel Abbey High School run by Benedictine monks.
Heynderickx has worked in Catholic higher education for over 40 years, 35 of which have been at the senior management level. Prior to Saint Martin's, he was responsible for a division of over 400 staff members and oversaw the University of San Diego's finance and administration division, including endowment investments, facilities management, and the budget. Before then he had spent 27 years at the University of Portland, ultimately serving as its chief financial officer. At the University of Portland, Heynderickx participated in a major institutional strategic planning process that led to a significant redirection of the university's focus resulting in a strengthened institution. In addition to his administrative work, Heynderickx served as an adjunct professor in the University of Portland's Pamplin School of Business and gave a number of lectures and workshops for a variety of professional organizations.
Heynderickx has served as an appointed commissioner to the Northwest Commission on Colleges and Universities (NWCCU), the body which accredits institutions of higher learning in the seven-state Northwest region. He also served as an evaluator for the NWCCU for over 25 years, where he focused on small colleges and universities—giving him a unique understanding of Saint Martin's. He served on the board at the Olympia Tumwater Foundation, the Independent Colleges of WA (ICW), Olympia Federal Savings, Great Northwest Athletic Conferences (GNAC), Washington Higher Education Facilities Authority (WHEFA) and the Fulcrum Foundation. He continues to serve on the board of the Association of Washington Business (AWB) where he has been a board member for 14 years and currently serves as treasurer of the board.
He and his wife, Kathleen, have three children: Marc, Troy, and Kathryn.