Lori Sirs, DSW, LICSW
Lori Sirs, DSW, LICSW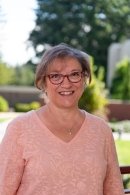 Program Director of Social Work
Assistant Professor, Social Work
Old Main 343
5000 Abbey Way SE
Lacey, WA 98503
"There can be no happiness if the things we believe are different than the things we do."  -  Freya Stark
Education
D.S.W., University of Tennessee; M.S.W., Boise State University; B.A., Ibid
Bio
I serve as the Program Director for the Social Work Program at Saint Martin's University, and teach primarily the senior research, macro practice, and trauma courses. I am proud to belong to a profession that values the worth and dignity of the individual, demands integrity, celebrates diversity, as well as individual and group strengths, and promotes change through the development of relationships. I believe that being a social worker is not something I do, but who I am. As an advocate for social and economic justice, I see education as a critical tool. The opportunity to teach allows me to invest in our collective future. Social work is especially appealing to me because of the opportunity to make a difference in the lives of others. Social work as a profession is unique in that there are many ways one can apply their degree – from child welfare to assisting our veterans to providing clinical counseling to working with our growing aging population. We work with individuals, families, groups, communities, and on issues that affect our national and global communities.  
My own extensive clinical experience includes working with at-risk youth, in a chronic pain clinic, creating a counseling department in a private, non-profit agency, and more recently, working in private practice with children, teens, and adults. Because I am passionate about the role internship plays in social work education, I served as a field instructor for Boise State University for a number of years. I consider it a privilege to help teach, mentor, and prepare the next generation of world-changers, also known as social workers! I have taught across the curriculum in the social work department and currently teach courses in research & macro practice, and trauma studies. Because trauma is so pervasive it is imperative that we have an understanding of its impact in the lives of our clients and keep trauma-informed care at the forefront of the work we do. I am so pleased to have been a part of creating a Trauma Studies concentration and minor here at Saint Martin's University.  
My research interests involve addressing trauma in its many forms, using a specific movement modality, poi spinning. You can read more about that here (Full article: Embodiment Practice: Using Poi Spinning in the Healing Process (tandfonline.com)).  If you are interested in learning how to spin poi, keep an eye out for informal groups spinning poi on campus, or perhaps you will experience this practice during one of my classroom lectures.     
I love calling the Pacific Northwest my home. I raised my children on Vashon Island, and though I enjoyed my many years in Boise, Idaho, it feels good to be "home." I graduated from Boise State University with both my bachelor's and master's degrees in Social Work and received my Doctor of Social Work (DSW) degree from the University of Tennessee, Knoxville. Having been a first generation, nontraditional college student, I also have an understanding of the unique strengths and challenges that come with that academic path.  
Select presentations:
Examining the Effect of Poi Spinning on Self-regulation: Preliminary Results (February 2017). Poster Session at the Learning Disabilities Association of America, 54th Annual International Conference, Baltimore, MD.
Assessing and Treating Social Competencies: Norms to Nuances. (January 2017).  Oral presentation, Pierce County Counselor's Association, Tacoma, WA.
Meeting the Socioemotional Needs of Students (December 2016). In-service, Greater Lakes Mental Health Services, School Intervention Team. Lakewood, WA.
The Kinesthetic Classroom: Teaching and Learning Through Movement (October 2016). Oral Presentation at the NorthWest Association of Independent Schools Fall Educator's Conference, Tacoma, WA.
Executive Functions 101: What Parents Need to Know (September 2016). Oral Presentation, Pierce County Chapter of C.H.A.D.D., Tacoma, WA.
Using Mindful Movement to Boost Learning, Memory, & Self-Regulation (February 2016). Oral presentation at the Learning Disabilities Association of America 53rd International Conference, Orlando, FL.
Weaving Movement into Social Thinking®: Fostering Self-regulation Through Purposeful Movement. (June 2014). Oral presentation at the 7th Annual National Social Thinking® Providers Conference, San Francisco, CA.
Cognitive Behavior Therapy and Academic Intervention for Students with Learning Disabilities. (October 2013). Oral paper presentation at the Annual Conference of the Institute of Special Education and Rehabilitation, Ohrid, Macedonia.
Accomplishments:
It was a special privilege to have my grandchildren present when I received my doctorate in Knoxville, Tennessee, in May 2017.
Areas of interest:
I am passionate about sharing my knowledge through presentations at national and international conferences, and local lectures and workshops. Outside the classroom, I enjoy reading, poi spinning, and traveling.