Alexis Walker, Ph.D.
Alexis Walker, Ph.D.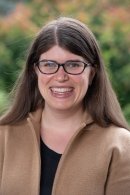 Chair of History and Political Science
Assistant Professor, Political Science, State and Local Government
Old Main 307
5000 Abbey Way SE
Lacey, WA 98503
Areas of Expertise
American politics
American political development
Public policy
Political participation
Federalism and organized labor
Education
Ph.D. in government, Cornell University; M.A. ibid.; B.A. in politics and history, Willamette University
I grew up in Olympia, Washington and am excited to return home to share my love of political science with the students at Saint Martin's.  My current research looks at the consequences of exclusion of public sector employees from the Wagner Act for organized labor in American politics.  More broadly, I am interested in issues of inequality in political voice and am passionate about studying topics of modern-day relevance that can guide policymakers in strengthening our democracy.  
This guiding principle is evident in my service between undergraduate and graduate school as a team leader in AmeriCorps*NCCC in the Gulf region after Hurricane Katrina; my current membership in the Scholars Strategy Network which seeks to make important research more accessible to the public and lawmakers; as well as my strong commitment to undergraduate teaching in order to help foster the next generation of policymakers and politically engaged citizens.
Outside of work, I love hiking, surfing, CrossFit, soccer, and all things outdoors.
Publications
"Partisan Preemption: the Strategic use of Federal Preemption Legislation," with Mallory SoRelle, Publius: the Journal of Federalism, Fall 2016 46(4): 486-509.
"The Historical Presidency: 'The Fibre of which Presidents Ought to be Made': Union Busting from Rutherford Hayes to Scott Walker," Presidential Studies Quarterly, March 2016: 194-207.
"Labor's Enduring Divide: The Distinct Path of Public Sector Unions in the United States," Studies in American Political Development, October 2014: 175-200.
"Citizenship," with Suzanne Mettler, for The Oxford Handbook on Social Policy in the United States, edited by Daniel Beland, Christopher Howard, and Kimberley Morgan, Oxford University Press, 2014.
"Policy Speech in the Nineteenth Century Rhetorical Presidency: The Case of Zachary Taylor's 1849 Tour," with Richard J. Ellis, Presidential Studies Quarterly, June 2007.